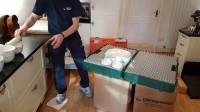 Professional Packing and Unpacking
We understand that the personal things that are important to you may not always be the most valuable which is why we give the same careful attention to each item when packing and unpacking, regardless of its value or size. At our dedicated training centre each packer is taught best practices that we have refined over many years in the removals industry. This means you can trust us to treat everything with the same utmost care, from a well-loved teddy bear to your priceless possessions like crystal glassware, fragile china, antique furniture, and your state-of-the-art sound system. We have a range of packing and unpacking options, one of which is bound to suit your personal needs and budget. If you're looking for low cost and durable storage boxes for your possessions, we have cardboard boxes for the storage of many types of items. This includes heavy duty boxes, corrugated cardboard boxes and storage boxes of varying size, shape and strength.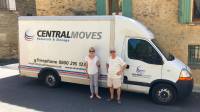 Removals to France - European Removals
Transporting everything you plan to bring with you from the UK to your new French property will be no mean feat, so you'll be glad to take a backseat and let us worry about this aspect of your European relocation. Central Moves is the founder of the Association of Independent Movers (AIM), and we have developed an outstanding reputation transporting families' belongings to Europe.
Man and Van Removals
Our small moves service is designed for moving the contents of one or two-bedroom apartments or small offices and commercial premises to a location within 30 miles. Ideal for tenants with access to both properties and you can use our van and a team to make multiple trips to suit your requirements.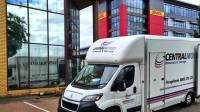 Office Removals
Relocating offices can cause major disruptions to a business if the move is not carefully planned and executed. With many years of experience in commercial office relocation in the Greater London and Southeast areas, we are perfectly geared to assist businesses of all sizes with their relocation plans with minimum disruption and inconvenience. Our professional IT relocation specialists are trained to decommission and recommission each individual work station to ensure the move goes smoothly with the least disruption.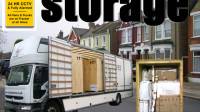 Storage services
Should you need your possessions to be stored while relocating or you would like long-term storage, we can offer you storage in high-security facilities in several major cities locally or internationally with full handling and inventory management. Within these facilities, your containerised possessions will enjoy the highest levels of security with sophisticated fire detection systems and central CCTV monitoring.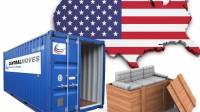 International / Overseas Relocation
Worldwide – Beyond Europe, most global relocations use shipping containers to move goods by sea, rail and road. There are three categories of container service; Full Container Load (FCL), Less than Container Load (LCL) and Groupage Service. Airfreight, though more expensive than surface freight, is often used to transport vital items.
The guys at central moves totally took away the stress and anxiety of moving! Even before the move the office support was fantastic and so accommodating with my forever changing moving date!

They came the day before, packed up the house, taking care with everything and then unloaded at the new house! I have a LOT of glassware and Crystal glassware that is very sentimental, pointed this out to the guys, they took extra care with those and nothing was broken!

Would highly recommend!!
John and Ricky turned up early and dismantled the furniture I wasnt able to do myself and loaded all my boxes and furniture quickly and efficiently on to their van. They were very helpful when we arrived at my new house, putting together a heavy wardrobe and generally making a stressful day easier. I would not hesitate to recommend them.
Central moves were absolutely fantastic. Kane and his team moved our family and the move was extremely stress free, it ran like clockwork! I would only ever use Central moves in the future and could not recommend them highly enough - superb work and thank you 10/10!!!
Central Moves have handled my domestic move before Christmas. Now that we have finally settled down in our new home I have found the time to write about our positive experience. The whole team has been very prompt and helpful. The crew handled brilliantly my grand piano and high valued antique furniture. All necessary measures were taken from covering the floors and using special gloves. I really appreciate the care and expertise of this company and would recommend them to anyone. We will definitely be using them again for our next move!
Central Moves have been a god-send when considering moving during these Covid period. The movers were conscientious, timely and efficient - I would highly recommend to any other household considering to move in the SW London area.