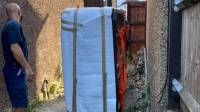 House Removals
Here at F Smith & Son, our priority is to offer a quality, reliable and personal House Removals Service to all of our clients. To be able to deliver this level of service, our staff are trained to a high standard and are experienced in problem solving and overcoming any difficulties encountered whilst carrying out your removal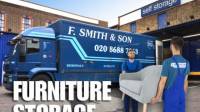 Domestic Storage
There are many reasons why you may need extra storage, ranging from builders/decorators needing some furniture moved out to free up enough space to work, through to you just not having enough space in the property. Whatever the reason, we can store single items to whole house contents for a few days, months or indefinitely.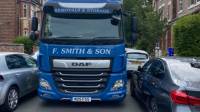 European Removals
F Smith & Son are committed to providing a Quality, Reliable and Personal service to all of our clients moving to Europe. By employing experienced personnel in the art of European Removals we have been refining our removal techniques through training and the use of modern equipment, enabling us to meet our high standards set.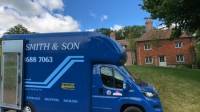 International Removals
F Smith & Son are committed to providing a Quality, Reliable and Personal service. F Smith & Son has been trading for over 75 years giving us the wealth of knowledge that is required to maintain a successful and professional removals company.
Commercial Relocation
At F Smith & Son, we are passionate about delivering a 1st class service to our clients. Whether your business employs 10 personnel or 1000, your business will receive an equally high level of service from us. We have been refining our removal techniques through experience, training and the use of modern equipment to enable us to meet the high standards that we set.
Unfortunately, circumstances led to our difficult move becoming even harder and without the help of this firm I do not know what would have happened.

They stepped in and helped us in everyway possible to make it a success. The team we had worked together and were very well managed and organised.

We only came across the company when we were let down at the last minute by a firm that had been recommended to us, which was a stressful situation in itself.

This company is professional above all else and won't turn a crisis into a drama. We throughly recommend them.
Brilliant company. Fairly priced and the team worked really hard in very hot conditions on the day of my move. They were quick, efficient and no damage caused. Highly recommended.
From my first enquiry to the last of my items being safely delivered to my new home, the whole team were absolutely fantastic. Aiden and John were brilliant on moving day and despite issues with confirming dates on my part they were quickly able to adapt to my solicitor schedule- thoroughly recommend this family firm.
F. Smith and Son were excellent in their approach to the move. They were very careful with initial surveys and estimates -- and were able to adjust as circumstances changed. The home to be moved was in the UK. I was in the USA. But it was easy to communicate and set up the contract. They were very understanding as the completion date moved away, week after week, until finally it was time to do it. They adjusted their approach to the circumstances they found, as they worked their way through the packing of our flat. All was done very professionally, and the goods were delivered without a hitch to the warehouse 80 miles away. I would use them again with no reservations.
From the outset everyone has been extremely helpful and gone that extra mile to help despite huge problems on completion day. Great movers who were friendly, patient and professional Would definitely use them again.
Professional, honest, reliable family run removal firm. Very happy customer. Highly recommend.
If anyone ever needs a removal company I can highly recommend F Smith & Son.
We used their services recently and even with the delays to the move, they were nothing but professional throughout making the whole experience far less painful than it could have been.
Effortless removal, minimum fuss. maximum help.
Thank you, F Smith & Sons, for your personal service and attention to detail in helping us sort our move from London. You were incredibly helpful, punctual in getting back to us and your pricing was very competitive. I would recommend your services in a heartbeat.
Couldn't have asked for a better removal firm. From quote to moving day, everything was perfect. The whole team clearly cares about their work and enjoys what they do. They answered questions quickly, were polite and professional in all communications and removers Brian and Ash really did take all the stress away on moving day. We never thought it could be as easy as they made it! Brilliant company, would definitely use again and recommend without any hesitation.
This was no ordinary removals booking.....
The team collected and delivered 5 fragile 5 ft letters to give our venue for a Charity Ball the WOW factor.
Then when it was all over they collected and returned them to the supplier.....
Nothing was too much trouble and I highly recommend this company.
Excellent removal from start to finish well done guys
I moved today and not for one minute did I get stressed the guys who moved me were first class nothing was too much trouble, highly recommended
Best removal company I have only ever used this company. The staff are also excellent.